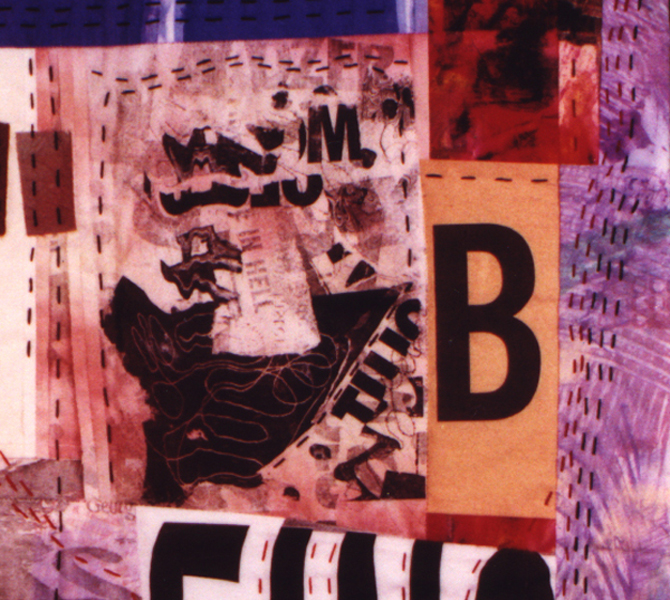 Judith Plotner
CAPTURING THE WILD FABRIC OF NATURE
by Frances Sigurdsson

Ever since the Blue Line was drawn, the Adirondack Park has been called a "patchwork" of private and public lands. But in the hands of fabric artist Judith Plotner, the analogy takes a new twist. Adirondack forests and waterways are both the subject of and the inspiration for Plotner's art quilts. Kunjamuk Rhythm, for example, resulted from a series of canoe trips Judith and her husband, Stanley, took on the Kunjamuk River near Speculator. "The first time, we started in the bay and didn't get all the way to Elm Lake," she recalls. The pickerelweed was in bloom, and the impression of a lavender-purple Kunjamuk Bay remained vivid in her mind's eye.
"We went back and started closer to the river. We went the whole way to the lake, over beaver dams, . . . a lot of getting in and out of the canoe. It's hard to find the right opening, there's lots of false channels. You have to look to see how the grasses are flowing." Flowing grasses and their watery reflections are depicted in the squares along the bottom of the quilt, which measures seventy-six inches high by seventy-nine inches wide. Rising above the squares, columns of blue fabric in a herringbone pattern symbolize water. Bits of scarlet represent cardinal flowers Judith and Stanley saw as they paddled. Near the top of the quilt are the shoreline boulders and their squat reflections. Round pieces represent pebbles on the river bottom. The two outer panels forming the sleeves of the kimono-shaped quilt are pieced from actual Japanese peasant pants. The traditional dark-blue-and-white pants material "had the look of water," Plotner says. Curved pieces on the panels call to mind roots along the bank. "My work isn't portraying the landscape as a camera would, or as someone else would see it," explains the artist at her home in the southern Adirondacks. "It's being filtered through my senses, and I'm creating a mood, expressing an experience, rather than a photographic, realistic image." Plotner, a New York City native, studied painting and graphics at the High School of Music and Art and City College of New York, where she received a bachelor of arts degree in 1961. Her fabric art evolved from a desire to add dimension to her painting. "I started building out on paintings with papier-mâché and collaging, using newspapers," she says. Stuffed and painted canvas pieces in the round followed. But these were difficult to store, so Plotner turned to flatter, painted canvas wall pieces done in trapunto—padded quilting with the design outlined by stitching. Some of these were fabric collages. In 1984 the Plotners purchased an old goat farm in Bleecker as a North Country getaway. "It was advertised in the New York Times as a handyman special," Judith recalls with a laugh. "We wanted at least ten acres and water. This had twenty acres and two ponds." The century-old farmhouse came with a bed but not much else. After she and her husband painstakingly stripped gray paint off the butternut-wood bed frame, Judith decided it needed a quilt. Her first attempt, she admits, was disastrous: "I did just about everything wrong." After sewing a few more bed quilts, Plotner merged her fine-art background with fabric, and thus the wall quilt was born. Initially Plotner incorporated commercially dyed fabric into her designs. "The Kunjamuk quilt was the first piece where I used hand-dyed and -painted fabric," she says. After attending workshops at Peters Valley in New Jersey; the Haystack Mountain School of Crafts, in Maine; and the Women's Studio in Rosendale, New York, Plotner now adds her own custom colors to plain cotton or silk. In addition to dyeing and painting, she employs printing, stamping, transferring and silk-screening. Over the years, Plotner's work has appeared in numerous solo and group shows across the country. She has been featured in exhibitions at the Museum of Contemporary Crafts in New York City, and the Renwick Gallery of the Smithsonian Institution, in Washington, D.C. Locally, Plotner was part of the Lake Placid Center for the Arts's "Adirondack Juried Art Show" in 1993 and "More Black & White" in 1995, the Sacandaga Valley Arts Network's first Five Sacandaga Artists exhibit in 1998, as well as showings at the Arts Center Gallery in Saratoga Springs and the Vine Street Gallery in Gloversville. Plotner is excited about recent forays into photo transfer. New processes enable her to copy images and transfer them in full color or black-and-white onto fabric. "I'm very high tech, considering our set-up," she laughs as she looks around her home. A gas generator runs her computer, photocopier and sewing machine since the house is off the power grid. With no other dwellings nearby, the Plotners would have to foot the whole twenty-thousand-dollar bill to bring in utilities. But since there's no electricity, there are no neighbors—or year-round ones, anyway. The Plotners moved to Bleecker permanently ten years ago, when Stan retired from his job as an industrial-arts teacher in the Bronx. They don't mind the primitive situation, even if it means pumping water from a deep-draw well outside the house in winter. They haul in eleven buckets a day and heat water on a wood stove or a gas cooking stove. "Our winter shower is a bucket with a spigot that hangs over the tub," says Judith. A pressure tank supplies water the rest of the year, and last spring they installed a hot-water heater. "Come winter, we're shaken back to reality. Our basement is not heated, so the pipes freeze," she says. When they renovated the house, the Plotners converted an attached shed into a screened porch. The porch overlooks a pond and flower garden—Judith's other passion: "We were fortunate that there were tons of lilacs here and lemon lilies with a wonderful fragrance." Honeysuckle grows with abandon. Sweet woodruff, baby's breath and forget-me-nots hold sway along with newly planted monkshood and platycodon. "I'm constantly striving for a particular look," she says. "Wild, but not weedy. Lacy, old-fashioned." The Adirondack foothills serve as a verdant backdrop to the property. The only sounds are the calls of catbirds, cedar waxwings and blue jays, which swoop down to the feeders behind the porch. A sudden whirr announces the arrival of a ruby-throated hummingbird. "That's a male," Stan observes, pointing out the red throat. "The females are green." In winter the porch stores five cords of firewood. But come summer, Plotner uses the space for tinting fabric. Her palette reflects nature's own. "One day I was dying fabric, and it was fall when the colors are beautiful," she muses. "I had no intention of translating that into fabric, but it just came out. I just created what I saw—yellow-greens, rusts, oranges." Plotner used this fall fabric to make October Song and October Song II—two quilts inspired by nearby Pinnacle Creek. "When I stopped for lunch on a rock in the creek, the different sounds of water as it whooshed and plinked around rock formations captivated my imagination," says Plotner. "In this series, I am bringing together my whole October experience; the sights, sounds, smell and feel of my walks in the woods." Similarly, her Adirondack experiences color her choice of subject matter. The Plotners are four-season outdoor enthusiasts who frequently trek to Nine Corner Lake, Kane Mountain, Jockeybush Lake, Panther Mountain and Clockmill Pond—to name a few favorites from a well-thumbed guidebook. In winter they cross-country ski and snowshoe in the southern Adirondacks. "It's so beautiful down here, we don't want to do the driving," Judith says almost apologetically. "In winter, the idea of stepping out of your own door and going skiing is very, very appealing." As winter shifts to spring, the artist is at work now on October Song III, which will incorporate fabric with spatters to represent the plinking sounds of Pinnacle Creek.
Although the Kunjamuk and Pinnacle Creek pieces are site-specific, Plotner stresses that her aim is to convey the general experience of living in the woods. "All my work is connected to the way I live. It's the feeling of calm, the beauty, the rhythm of nature. When I go for a walk, I see patterns, shapes, texture, color." It is these simple aspects of daily life that shape her art. Indigo Light, for instance, employs a mix of purple-blue painted cloth and commercial fabrics to capture twilight on the snow over the ponds as seen from her studio window.
Another, Scene From a Painted Window, was inspired by wet snow clinging to trees. "I looked at it and knew it would be a piece one day," says Plotner. "I saw indescribably beautiful patterns made by branches and snow." The piece was commissioned in 1999 by a grant from the New York State Council on the Arts and hangs in the Gloversville Free Library. Fabric rectangles suggest window panes. "Each pane relates and connects, but I made them separately," Plotner explains. At the top, trees are silhouetted against a dusky sky. She created the effect by silk-screening silhouettes that she had photographed. Satin fabric shimmers like snow, and hand-sewn running stitches mimic animal tracks. "I'm always stopping to look at little animal tracks," she says. "They look like necklaces in the snow." The piece is nearly all hand-dyed and painted in pale blues, purples, off-whites and pale tones. "My work has become more painterly," Plotner confides. "I feel as if I've gone full circle from my original training as a painter and printmaker. Now I'm designing the surface of the fabric, as well as the quilt." Quilty by Association
Last spring, Judith Plotner led a workshop of local quilters in making an Adirondack Wildflower Quilt; it was raffled in fall 2000 for the Sacandaga Valley Arts Network, of which Plotner is co-chair, raising fifteen hundred dollars. This year, she led a group of quilters in creating an Adirondack Wetlands Quilt. The quilt can be viewed May 5 at the SVAN booth during Northville's village-wide garage sale, and May 6-13 at the First Congregational United Church of Christ, Gloversville, as part of the forty-seventh annual Fulton County Art Show. The Wetlands Quilt will be raffled August 24 in Northville, a benefit for SVAN. Kunjamuk Rhythm and the October series will be part of a solo Judith Plotner show at the Fulton-Montgomery Community College Art Gallery, in Johnstown, from October 5 through November 2, 2001; call the college at (518) 762-4651, extension 4111, for more information.

Reprinted with permission from the author and Adirondack Life magazine. This article originally appeared in the May/June 2001 issue, volume XXXII, Number 3.